By Thomas Quarry
Meta Title: Africa's Safest Locations in 2020
Meta Description: Africa offers you ample opportunity to enjoy everything this continent has to offer, from food to pristine beaches and roaming wildlife. Find out which countries have the lowest crime rates and are considered safe for tourists.
African countries are like a limitless treasure card, where you can go on safaris, enjoy delicious food, and visit beautiful beaches. A vacation to Africa should be on everyone's bucket list, but there is one problem: violence. There are safe and dangerous areas on every continent.
If you want to open a map of Africa and search for beautiful destinations, you'll want to check the safest countries in Africa.
1. Rwanda
When it comes to places to visit in Africa, Rwanda is one that you can't miss. Rwanda is a relaxed location with beautiful cities, routinely listed as one of the safest destinations on the continent. When entering it for the first time, you'll note that there's a lot of security around. Security doesn't mean violence; it helps work towards the safest cities in Africa.
2. Botswana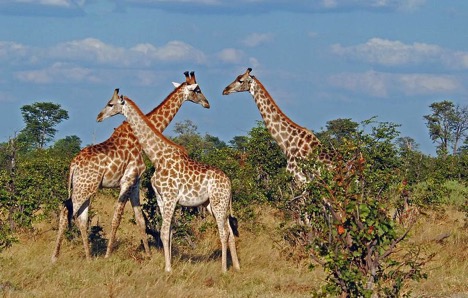 Botswana is known for being a great place for a treasure hunt, with hundreds of great tours and a lot of political security. A low crime rate can be found in the Okavango Delta, which makes it a perfect location for safaris in Africa. There's a lot of wilderness with very few people around if you want to step outside of city centers. The area, particularly Makgadikgadi Pans, is known for its beautiful zebra migrations.
3. Mauritius
Mauritius is a charming place in Africa with a beautiful view from all angles. It is a great location to relax for a holiday and has ample beach resorts. The country boasts a rich history with a welcoming atmosphere and is greatly concerned about safety.
If you're going to Africa, keep in mind that some seasons are arid and humid. The worst time to visit Mauritius is between January and March, as it rains all the time.
4. Namibia
Namibia isn't what most people think of when going on a South Africa tour. The area is known for long road trips and wild safaris, and there is a considerable amount of desert. Crime is low across the country, making it a good choice for families and solo travelers.
Tourists often spend their time outside of major cities.
Thanks to its prime location, Namibia has one of the most consistent climates in Africa. You'll also have a lot of opportunities to view wildlife.
5. Seychelles, Africa
Seychelles is a tropical paradise of Africa with beautiful views of the Indian Ocean. A safe destination, tourists experience very little to no crime. Some accidents may happen on the main islands, but adventurers going to the beach or exploring the area's biodiversity will hardly wander into the main island. Beach resorts are where many people tend to relax.
One of the best rules for anyone looking for South Africa travel advice is to stay in a beach resort if you're concerned about crime. The resorts have tight security and rarely have any serious incidents.
6. Ethiopia
Ethiopia may have minor crimes, but even the petty rates are low compared to other destinations in Africa. Once known as a location for food insecurity, the political atmosphere has changed greatly since 2007, leading to more tourists and greater prosperity for locals.
The highest risk of criminality is in Addis Ababa, so try and stay out of this area late at night to avoid any problems.
7. Morocco
Morocco is one of the safest countries in Africa, and it's known for its beauty. Tourists are very rarely in danger, and the stable political system makes it a top choice for people visiting North Africa. But even with improved safety measures, one may experience pickpocketing.
The summer months can be unbearable with high temperatures, so be sure to avoid this period if you plan to enjoy a lot of outdoor activities.
Africa is like any other continent, where crime can fluctuate from country-to-country and even city-to-city. Remember basic precautions, such as keeping your valuables in your front pocket and staying away from dimly lit streets at night.
Which place in Africa do you want to visit?
Author Bio:
Thomas Quarry is a data scientist, treasure hunter, animal lover, aspiring wildlife photographer, and outdoor fanatic. In between writing and photography, Thomas likes hiking, climbing, camping, or daydreaming. He has been contributing to nature publications for several years and enjoys new writing challenges.