Just months after Kwesé TV (satellite subscription service) shut down after a troublesome 18 months, last week on Wednesday, Kwesé Play users in Zimbabwe, South Africa and Uganda woke up only to find out that the streaming service was down with error notification that "Econet Nolonger Offers Kwesé Play. For More Information Contact Econet."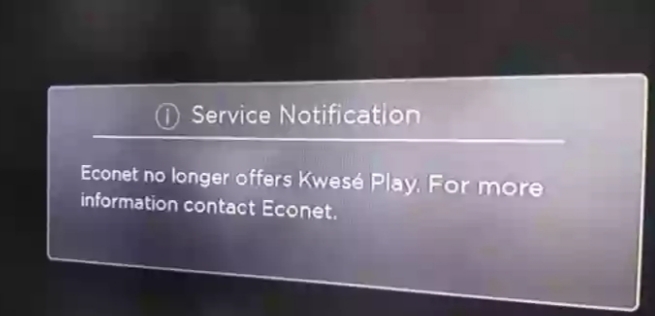 Kwesé Play, was launched last year, and is a Roku Powered streaming platform that uses the internet to deliver entertainment services to consumers across Sub-Saharan Africa. Kwesé Play was the first and only Roku partner in Africa with a custom-built set-top box, sporting the incredibly iconic purple tag, and was sold through various retailers and resellers. Because of its exclusive partnership with Roku, Kwesé Play gave you access to some of the biggest names in global video on demand, including Netflix and YouTube, plus a variety of over 200 carefully curated apps in the Kwesé Play App Store.
In our earlier report, Econet in response to the service being shut down, stated that it was in fact been negotiating with Roku regarding the viability of the Kwesé Play service and Roku's future plans for the African market.
RELATED READING: KWESÉ IN DISCUSSIONS WITH ROKU OVER KWESÉ PLAY STREAMING SERVICE SHUT-DOWN
Latest reports now suggests that that African Pay-TV operator Econet Media, which is owned by Zimbabwean billionaire Strive Masiyiwa's Econet Group, has placed its struggling satellite broadcasting business under administration.
In an interview with South Africa's BusinessDay, Joseph Hundah, Econet Media's CEO, said Econet's pay-TV company, which operates under the "Kwese" brand name, will soon begin talks with creditors to rescue the business. Econet Media reportedly racked up more than US$130 million in external liabilities and was unable to pay suppliers. The company has appointed accountants Ernst & Young to manage the process.
Kwese TV which launched in 2014 in more than 10 African countries has struggled to succeed in a market dominated by Africa's largest pay-TV operator, MultiChoice, owners of DStv. In November 2018, the company abandoned its initial model and turned its concentration to free-to-air content distribution, a service that will continue to operate in Africa.
Strive Masiyiwa, 58, currently has a net worth FORBES estimates at $2.8 billion.