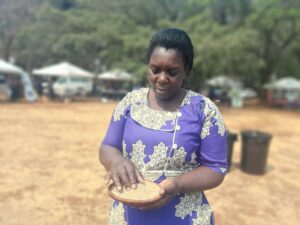 By Lloyd Rabaya
As the Green Stars traditional dance group was dishing out their transcendent performance of the Mbakumba dance, the unmitigated crowd's cheerful plaudits with the golden dust going straight to the skies marked the permanent return of a lost hope.
Since time immemorial in Zimbabwe, different occasions called for different dances, which vary with the province or district.
"If there is a possibility of not getting rain, traditional leaders can hold a rainmaking ceremony or Mukwerera, and there would be dances like Mhande and Madzvukwa," said Zimbabwe National Traditional Dancers Association (ZNTDA) President Mr. Kennedy Kachuruka.
When the ancestors finally smile and drop tears onto the ground, there is also another ceremony to give thanks where, in areas like Mashonaland Central province, for celebration, they would dance Makwingwindo as they would also be preparing to till.
"After harvesting, they would be dances like Mbakumba and Dinhe. Most of the traditional dances are for thanksgiving, even though they vary with places," he added.
As for yesterday, the stellar Mbakumba performance by Green Stars was in celebration of traditional grains at the two-day National Seed Fair in Harare, which was running under the theme "Celebrating the wonder of Zimbabwean Millet."
A significant number of Zimbabwe's millet had gone oblivious due to yestertide unsustainable farming practices, but thanks to Zimbabwe Smallholder Organic Farmers Forum (ZIMSOFF) and Participatory Ecological Land Use Management (PELUM) Zimbabwe, the nutritious giants have risen like Lazarus.
Farmers, mostly female, from various provinces exhibited their traditional grains, and among them were the Zebra nuts, Munyadzagudo maize, Coffee beans, various traditional nut varieties, but the point of convergence was the Barnyard millet, or Svoboda in Shona.
"I urge everyone to farm traditional grains because you can get a healthy living from them because they are nutritious due to the organic way of growing them.
Also, I can send my children to school and will not run out of food at home because they do not take long to mature," said 49-year-old Anna Rungwe, a farmer from Mashava, which is about 330km from the capital.
Not only are the traditional grains nutritious, but they can also resist long dry spells, considering that the world is fazed by climate change.
According to the United Nations Sustainable Development Goal (SDG) number 2 of Zero Hunger, promoting sustainable agriculture with modern technologies and fair distribution systems will ensure food security for the whole world population and nobody will die of hunger again.
ZIMSOFF Programs Officer Patience Shumba highlighted that they are into agroecology and organic farming, and they use traditional sustainable methods like water harvesting.
Agroecology is sustainable farming that works in harmony with nature and its inherent relationships between plants, animals, people, and their environment.
"We also work with women in particular, and we are also promoting youth to be in our programs because they have to see farming as a way of life, not dirty work.
Around 2015, when we did a baseline survey, we managed to revive some long-lost millet like the Svoboda, but with farmer sharing of the seed, it is now in most of our clusters," she said.
ZIMSOFF has four clusters, which are Northern, Western, Eastern, and Central, and work with 16 farmer organizations in various districts, including Chegutu, Bikita, Bulilima, Bubi, Nkayi, Masvingo, Gutu, Chimanimani, Mutoko, Goromonzi, among others.
Ministry of Agriculture's Department of Agritex Crop Production Specialist Hilda Manditsvara reiterated the need for farmers to use what is at their disposal to produce for the whole country.
Also, she emphasised the need for farmers to share the traditional seeds amongst themselves to boost the yield of the much-needed nutritious food.
"This last farming season alone, the nation managed to harvest 280 966 metric tonnes of traditional grains up from 194 100 metric tonnes in 2021-2022 farming season according to statistics from the Ministry of Lands, Agriculture, Fisheries, Water, Climate and Rural Development. This is a commendable upward trajectory in the production of traditional grains, our true Zimbabwean food."