By Anyway Yotamu
International Organization for Migration (IOM) in Zimbabwe has provided over 980 tarpaulins and 250 sets of Non-Food Items kits to selected institutions in the country towards the fight against COVID-19.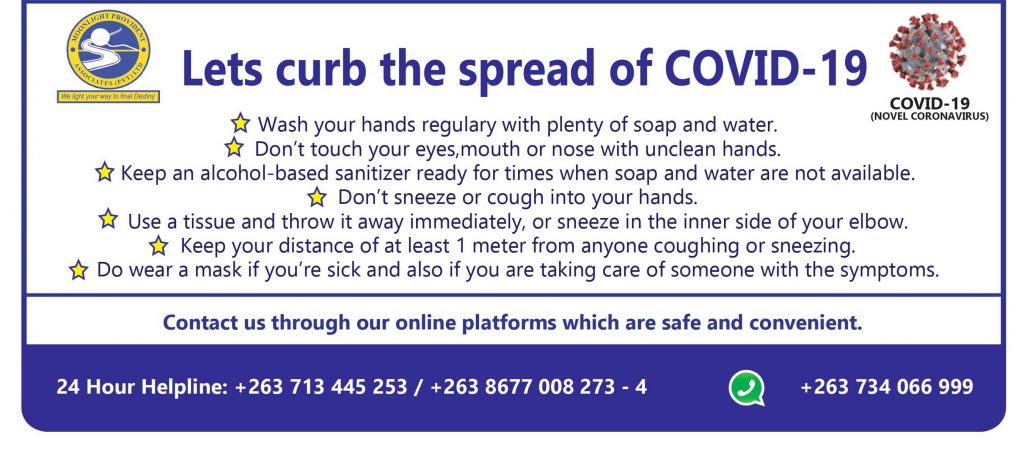 The beneficiaries include the National Social Security Authority (NSSA) Hotel (Rainbow Hotel) in Beitbridge, Plumtree High School in Plumtree and Vuti High School in Chirundu to enhance COVID-19 response capacity at main points of entry.
The support from IOM aims to improve the Civil Protection Unit (CPU)'s capacity to effectively operate and manage the quarantine centres to alleviate and minimize the effects of COVID-19 pandemic on mobile and vulnerable returning migrants.
Speaking at the handover ceremony, Hurungwe District Development Coordinator and chair of the District Civil Protection Committee (DCPC), Mr. Andrew Tizora said, "The donation from IOM came at an opportune time for the district which is facing a daunting task of providing for the quarantined returning migrants, mainly from Zambia."
Beitbridge Civil Protection Committee chairperson, Mrs. Sikhangezile Mafu-Moyo welcomed the donation from IOM as a boost to the district.
"We are grateful to IOM. This donation will enhance our capacity to professionally and effectively manage the quarantine centre," she said.
The Mangwe District Development Coordinator, as chair of the DCPC, in her acceptance speech also expressed the district's gratitude to IOM, highlighting that the materials were going to be of much assistance in their response to COVID-19 as a district.
The District Development Coordinator further highlighted some of the challenges being faced by the district due to the uncoordinated manner deportations are being carried out from Botswana. She implored IOM to re-establish their presence at Plumtree Border Post and indicated that the Plumtree quarantine centres transferred some returning migrants to Bulawayo as part of decongesting the centres.
The DDC further stated that they are escorting discharged returnees to their homes, but this is proving costly owing to the varying destinations for the returnees.
She added that they continue to receive migrants from Botswana almost daily and the lack of coordination on the deportations is posing challenges in planning.
IOM Zimbabwe, as the Point of Entry pillar co-lead in the COVID-19 Response Initiative, will continue to work with the Government of Zimbabwe, UN agencies, international NGOs, and the local stakeholders to ensure that the rights and dignity of returning migrants in quarantine centers are upheld.
To date, Zimbabwe has recorded 34 confirmed cases of COVID-19 with 4 deaths and 9 recoveries.