By Zimbabwe Environmental Law Association
Introduction
The tourism sector is one of the most affected industries by the COVID-19 pandemic which is an unprecedented global health and socioeconomic crisis.  Globally, this sector is accredited for its immense contribution to GDP, job creation, infrastructure development and wildlife conservation efforts. In the first quarter of 2020, the global tourism sector lost over USD$80 billion on receipts due to cancellation of bookings[1].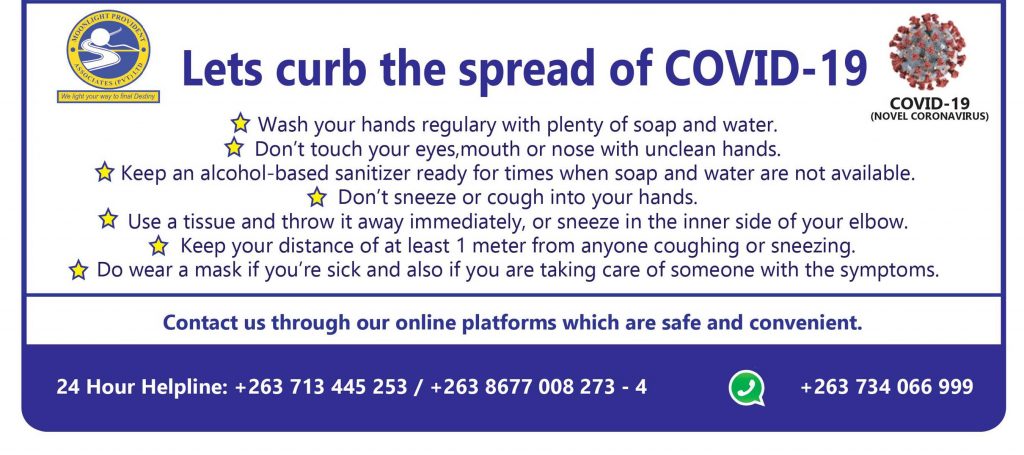 The effects are widely felt in developing countries like Zimbabwe where the tourism sector contributed 6.3% of the GDP in 2018 and is targeting an annual contribution of USD$7 billion by 2030[2]. 
The safari industry has lost nearly US$100 million revenue as hunters continue to cancel bookings for 2020 because of COVID-19 that has affected the world in general and Zimbabwe in particular. The industry has revealed that close to 90 percent of the bookings which are equivalent to 8 000 hunting days have been cancelled so far[3].  
With air travel suspended, and intercity travels, the ecotourism is literally on a halt. If this trend continues, the sector will suffer the worst in terms of revenue and the ripple effects of livelihoods of those that are dependent on this sector for income, food, and nutrition. These effects will be hard felt by Rural District Council, Safari Operators and communities that are reliant on the wildlife resources.
March 2020 will be remembered in human history as a month in which the COVID-19 took the world by storm killing thousands and infecting hundreds of thousands as it spread from China to the rest of the world. The disease is thought to have originated in a wildlife market for live animals in Wuhan China[4].
At the time of writing this report 4.44 million cases had been recorded globally and Zimbabwe had recorded 37 cases and 4 deaths[5].  Governments across the world have responded to the COVID 19 with a host of measures that include promoting social distancing in public spaces, regular handwashing with soap, use of alcohol-based sanitizers, wearing maskings as guided by the WHO guidelines and instituting national lockdowns with exemptions for essential services workers. Zimbabwe started its initial national lockdown on the 31st of March 2020[6].
The country has witnessed two further extensions of the national lockdowns with varying degrees of exemptions. The lockdowns include the suspension of international air travel, closure of international borders and the cancellation of hotel bookings and other intercity trips. The national lockdowns have cast a dark spell on the wildlife sector.
This sector relies to a large extent on foreign customers that include trophy hunters and tourists who come to Zimbabwe by air and road. This report interrogates how the COVID-19 is affecting communities reliant on wildlife, organisations depended on eco-tourism and conservation efforts in Zimbabwe.
In compiling this report, we used information gathered virtually from our environmental monitors, fisherman, scouts,   media reports and Government sources as well. In all this, we adhere to our Safeguarding Policies and Principles of no harm to our communities and stakeholders. We encourage them to socially and physically distance and to stay safe.
Effect on operations of Rural District Councils (RDCs)
Most Rural District Councils (RDCs) in marginalised areas of Zimbabwe such as the Lower Zambezi and Save valleys depend on wildlife resources for their day to day activities. In these areas, revenue from safari operators constitutes over 90% of the RDCs' income stream. The advent of the COVID 19 pandemic is casting doubt on trophy hunting and subsequently on the share of the revenue from hunting quotas allocated to safari operators. The uncertainty around international travel and hunting is negatively affecting the hunting industry. In the absence of trophy hunting, it is most likely that revenue to RDCs will drastically decline and adversely affect service delivery.
One of the officers from Mbire RDC has this to say;
"The indefinite suspension of the hunting safaris is bad for us as a district. The effects are detrimental to the gains that we had achieved in wildlife conservation. It is extremely difficult to operate under such circumstances. Wildlife has been giving almost 70 % of income to RDC and almost 100% for communities. You can see the impact is very bad. The CAMPFIRE program is supporting livelihood in wildlife communities. Now with the suspension of safari hunting, access to basic health services, food and water is limited"
Zimbabwe does not have a national policy on Human-Wildlife Conflict (HWC) policy. However,  some Rural District Councils are running innovative local level compensation schemes. These schemes are supporting in meeting a percentage of hospital bills in case of bodily injury or the burial of victims of human-wildlife conflict in the district.
Resources used for this implementing local level compensation policies are directly drawn from revenue inflows from safari hunting. A typical example is Mbire RDC which supports not only in the burial of victims of HWC but in settling a percentage of hospitalisation costs. The general decline in tourism in the country was already adversely affecting the utilisation of hunting quotas in the district before the advent of the COVID-19. However, the COVID-19 pandemic is plunging the sustainability of such schemes into disarray.
The list of households who need support from HWC is evergrowing. In the absence of trophy hunting, most councils such as Mbire RDC are most likely to fail to participate in compensation activities such as the burial of victims of HWC. This may ultimately sour relations between communities and the RDC.
The officer from Mbire district added:
"This year's budgeted activities will not take off due to lack of funding. Our council staff may be restricted to operating within the district only due to lack of funds to attend meetings. However, as a district, we have managed to contact Awareness campaigns through the District Civil Protection Unit. However, they could not reach out to everyone due to operational challenges. Partners also chipped in but the area of awareness campaigns require more effort and funding. The issue of social distancing is still a problem and wildlife communities and workers  do not have access to Personal Protective Equipment (PPE)"
Effect on communities
Wildlife Communities depend on revenue flows from trophy hunting for bankrolling their local level development plans through the CAMPFIRE. These communities receive approximately 50% of the value of trophy purchases with the remainder being retained by the council.[7] The communities then use these disbursements for different development activities such as training of ward resilience committees (WRCs) and fire management.
These WRCs are responsible for natural resources management and fire fighting. Although these committees are supported by external resources from partners such as the Zimbabwe Environmental Law Association and the African Wildlife Management, the bulk of the resources are generated from wildlife resources. Because of COVID 19, it is highly likely that most wildlife reliant communities will no longer be able to finance the activities of ward resilience committees and this will subsequently negatively affect natural resource conservation efforts.
Further, most communities have ward level anti-poaching units (APUs) which help to enhance conservation of wildlife resources through routine patrols, monitoring of illegal wildlife trade,  poaching and problem animal control. The welfare of the APUs is catered for by the disbursements from the RDCs from trophy hunting.
If wildlife trade is indefinitely suspended due to COVID 19, it is highly likely that some wards may suspend the operation of APUs due to failure to provide for their upkeep. In the case of Mbire district, the African Wildlife Foundation is currently taking care of the upkeep of APUs but one wonders what is happening in other districts that may not have external support for their APUs.  The suspension of APUs may result in increased poaching for the pot, illegal wildlife trade and increased cases of Human-Wildlife Trade.
One of the officers in Mucheni Conservancy in Binga had this to say;
"The COVID 19 is straining us on our conservation efforts. We pay our APUs from disbursements from trophy hunting. With the indefinite suspension of hunting in Zimbabwe, we do not know how we are going to survive as a conservancy. If we fail to get assistance or the ban lifted, we may fail to pay our APUs and this will adversely affect our conservation efforts. As Mucheni, we are not able to buy PPEs for game scouts. You know, bush life needs people to be close when they patrolling"
This view was buttressed by an officer from Mbire RDC who had this to say;
"communities here depend on 100% on revenues from the CAMPFIRE. The COVID 19 induced ban on hunting will badly affect our APUs. We are fortunate to have AWF who are helping to meet the costs of maintaining APUs. For those wards that AWF is not operating, things are going to be difficult. As a council, we depend heavily on wildlife resources".
On the contrary, the people in Matobo are viewing the COVID 19 as a blessing in disguise. One of the officers from Green Space Projects had this to say;
"In Matobo, the COVID 19 locked is quite a welcome development. The restriction on human movement is expected to reduce poaching outsiders. However, we fear that local people may be forced to engage in poaching as food shortages increase due to the lockdown. This year, our district is experiencing a drought and getting support from South Africa is difficult as the Malaitshas are not operating. As you might be aware, relatives in the Diaspora are unable to send food. We fear  that if the Malayitshas are not allowed to operate soon, Matobo will  experience an exponential increase in poaching for subsistence use
Effect on wildlife conservation efforts
The COVID-19 presents a very difficult puzzle for the wildlife reliant communities, particularly on conservation work. Although communities supplement their livelihoods with subsistence farming activities albeit under harsh climatic conditions, the decline in revenue linked directly from trophy hunting may ignite some community members to embark on the retaliatory killing of problem animals that are implicated in HWC.
Disbursements may have helped to calm down the tempers from smallholder farmers who might have lost their crops and livestock to wildlife. Without any trophy hunting, most areas will likely witness a reversal of wildlife conservation efforts. Some community members may likely embark on activities that are detrimental to conservation. These may include cutting trees for sale as firewood, or cooperation with poachers for a reward. One of the widely held views among conservationists is that local communities harbour external poachers by giving them information and housing them during their expeditions.
As a result of the COVID 19, the lure of getting a few dollars to sustain one's family may prove irresistible for some community members. Under these circumstances, it is most likely that cases of poaching and illegal wildlife trade will increase.  With less revenue coming into the sector conservation efforts have been crippled. It has affected the ability of Anti Poaching units in Victoria falls to continue the work on the ground as they support the National Parks. Many of the anti-poaching patrols have had to scale down or, in some cases, closed off completely[8][9].  
One of the officers in Mbire district had this to say:
"In this district, since the lockdown, the cases of wildlife crimes are increasing. As a council we have stepped up our anti-poaching efforts since these are some of the critical services that we are allowed to carry during the lockdown However, our efforts are being frustrated by  lack of Personal Protective Equipment for game scouts"
However, in Matobo the COVID 19 lockdown has provided a rare opportunity for the appearance of endangered species such as pangolins. One of the officers from Green Space Projects had this to say;
" Since the lockdown, traffic volumes have receded in Matopo and surroundings areas. As a result, the area has seen an increase in animal activity. Animals have become more visible during the lockdown period. The animals have gained the confidence to come out more in the open due to a significant reduction in the noise pollution levels and ground vibration caused by traffic volumes. Animals which are believed to be nocturnal like pangolins have been spotted during the day".
Another officer from Green Space Projects added;
"Human being behaviour at times stresses animals as they make noises such as hooting and shouting when they see animals. Now the animals can enjoy peace"
In Matobo district, the lockdown is preventing community members from picking the delicious Mopane worms. These worms contribute a significant share of protein for most households. The effect of the ban is causing an ecological imbalance in the area. One of the officers from Green Space had this to say;
"Due to the restrictions placed on human movement people, people from different areas have failed to travel to Matobo district to harvest Mopane worms. This year the worms are quite abundant. The Mopane worms are now seen forming carpets on the ground. However, the downside of that is they are now causing an ecological food chain imbalance. This is because the Mopane worms are destroying all the leaves of Mopane trees and this leaves the ground to expose to erosion"
Effect on fishing groups
Binga, Kariba and Mbire districts are home to many fishing groups. The food industry applied for an exemption to operate during the COVID 19 lockdowns. These groups are very critical for monitoring illegal wildlife trade during the day when they are fishing. Once they sight poachers, they relay the message to the Parks Rangers. However, surveillance by fishing groups is only limited to day time. It is only those groups involved in Kapenta fishing who operate at night and further provides surveillance on the waters.
One of the fishers had this to say during the lockdown;
"In Mbire district, fishing groups are allowed to carry out their business. However, due to the lockdown, we have scaled down our operations due to a drop in demand. Most of our customers are local village people and these are not allowed to move around during the lockdown. We are also not allowed to move around during the lockdown to sell fish to households. Movement of people is controlled hence very few customers come for the product".
However, fishers in Binga had a different view. One of the fishers had this to say;
"Here in Binga, things are on standstill. We are not allowed on the waters and have docked our rigs. People are not allowed to move around and there are also no customers for fresh Kapenta"
Recommendations
·       Review of the Parks and Wildlife Act to include issues of transparency and accountability on revenues generated through CAMPFIRE.
·       Development of a Human-Wildlife Conflict Policy to address legitimate expectations from wildlife communities on losses of crops, human life and livestock due to HWC.
·       Mandatory investment in alternative livelihood from CAMPFIRE payouts. 
·       Private-Public Partnership between RDCs and Safari Operators to support the upkeep of APUs.
·       Provision of PPEs to staff (Game scouts, Parks Rangers and ZRP) providing critical services in the conservation of wildlife.
·       Provision of foodstuffs to wildlife communities including wildlife workers to cushion them from the impact of Coronavirus pandemic.
·       Provision of lifesaving jackets to fishing groups.
·       Contacting  awareness campaigns to educate wildlife communities on the impacts of COVID 19
·       Partners in the wildlife sector can support APUs by providing anti-poaching equipment and rations for Game Scouts which the RDCs may not provide due to budgetary constraints due to Coronavirus pandemic
·       Screening for COVID 19 to be decentralised to health institutions in the wildlife communities.
Stay Safe, Stop the Spread, Save Lives
Published by: Zimbabwe Environmental Law Association (ZELA), 26B Seke Road, Hatfield, Harare www.zela.org; @ZELA_Infor, Zimbabwe Environmental Law Association
---
[1] https://www.unwto.org/international-tourism-and-covid-19
[2] https://knoema.com/atlas/Zimbabwe/topics/Tourism/Travel-and-Tourism-Total-Contribution-to-GDP/Contribution-of-travel-and-tourism-to-GDP-percent-of-GDP
[3]https://allafrica.com/stories/202004280527.html
[4] https://www.who.int/docs/default-source/coronaviruse/situation-reports/20200423-sitrep-94-covid-19.pdf?sfvrsn=b8304bf0_4
[5] Ministry of Health and Child Care COVID 19 updates
[6] https://dailynews.co.zw/lockdown-starts-as-corona-grows-authorities-call-for-unity-discipline/
[7] https://firstforwildlife.wordpress.com/2015/08/18/the-campfire-program-in-zimbabwe/
[8] https://www.africaalbidatourism.com/plea-for-wildlife-conservation-support-in-victoria-falls-as-the-economic-impact-of-covid-19-hits/
[9] https://tourismfocus.co.zw/2020/04/24/covid-19-undermines-conservation-efforts-says-fundira/